Best of 2019 and Plans for 2020
It's all Thanks to YOU! Thank you for following along and taking part in the fun times we share here at Sew Fresh Quilts. Especially for those of you who have purchased the Koala Love pattern to help raise money to aid Australia during the drought and bushfires.
As I reflect back on all the changes that have happened, I am always mindful of the things that I am so thankful for. Today I am celebrating my 7 year Blogiversary! Yes, it was 7 years ago today that I started this blog as a way to document my progress and to make connections with fellow quilters, like you! I had finished my first quilt, made for my daughter Erin. And was on dial up internet at the time….
Thank you for all your kind comments left on my blog posts, in emails and on facebook and instagram. And for all the encouragement you give me. I couldn't have made it this far without your friendship and all of your support!
Now we are coming to the end of YET ANOTHER WONDERFUL YEAR!
Time to take a look back on 2019 and see what has been accomplished.
And to take a look ahead to 2020 and to make plans for the coming new year.
This year has not been as prolific in the quilting department, as in years past. But I do feel like my life is finally starting to come together and our home is feeling more like a home everyday. My kids are home from school for the holidays…. And I am so blessed!
My favourite make from this past year has got to be the Koala Love quilt.
Since December 5th, we have raised a total of $1019.50 to be split between NSW Koala Hospital and Rural Fire Services Australia. THANK YOU ALL SO MUCH!!!
Together we have surpassed my goal of $1000. BUT that doesn't mean they couldn't use more help. I am collecting until the end of the month!!!!!
I have been following the news shared on Facebook about the plight of the wildlife that has been effected by the drought, the heat and the bushfires. Not to mention the people too! Homes are being destroyed as well.
Sometimes we are faced with things that seem impossible. But with LOVE…. ALL things are possible. And together we can make a difference. One person at a time….
People like Pat are making a difference! Pat Dauphinee wrote to share this cute and sassy Koala cushion she made using the Koala Love pattern and said, "Just love my little guy.  Instructions are nice and easy, thanks Lorna."
Click here to buy the Koala Love PATTERN.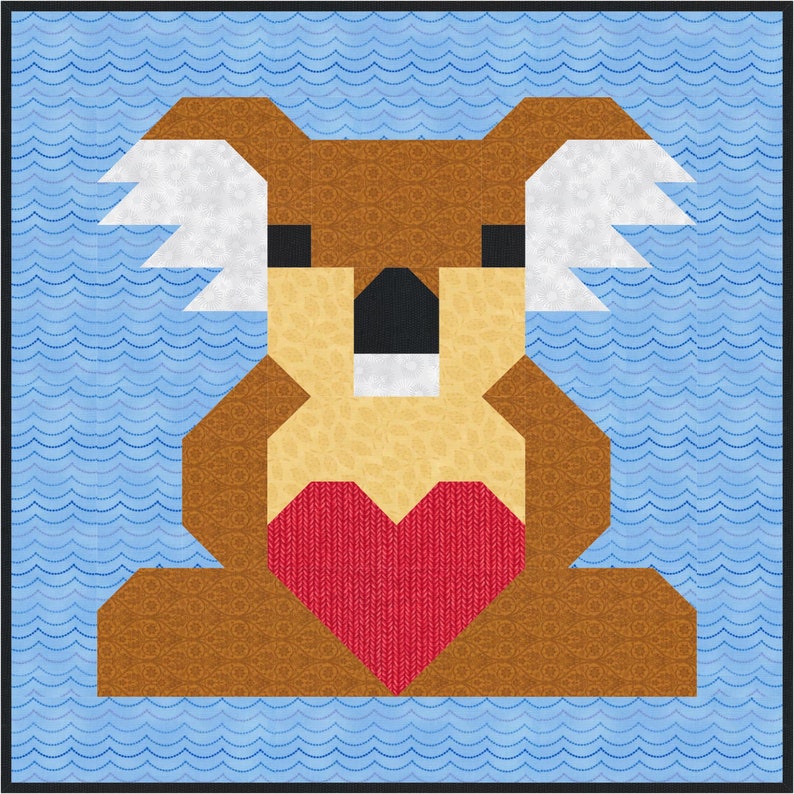 Someone asked about a baby block. To make Mama and Baby Koalas. So I also have a listing for the single block pattern here. The Koalas DO NOT HAVE EYELASHES. The blocks finish at 14″ and 7″ square. This is a block pattern, not a quilt pattern so there are no yardages or finishing instructions given.
Here are two of my other favourite finishes from this year…
Both very recent.
This favourite make was a big PHAT BOO hit!
I love the easy BIG PHAT blocks.
Be watching for a BIG PHAT HOHOHO next Christmas!
And this is the last of my five favourite finishes from this year…
The Harry Potter quilt along quilt!!!
This quilt has been stored away for my daughter. She is a big fan of the Harry Potter series. If you would like see all my other makes from this year please click here to visit my Gallery.




These are my Top 5 makes of 2019! It's hard to choose which quilts to put on this list at the end of the year. But I am excited to share this post and will be linking up to the party over at my good friend Cheryl's Meadow Mist Designs blog. This is her fifth year in a row, hosting this fun filled event and anyone can participate. Just write up a blog post sharing your 5 favourite makes from this year and join us at the party!

The following are my plans for 2020. My very first blog post was actually very much like a new year's resolution. For the past five years I have been participating in the planning party hosted with Yvonne of Quilting Jet Girl. And you can join us in this party too. Write your own post for your Plans for 2020 and come join us!
Reflecting Back and Looking Forward…..

2019 has been a pivotal year for me. A year of finishes and a year of firsts.
But also a year of refining my FOCUS.
In the first couple of years, I concentrated on learning new techniques, sharing tutorials and quilting tips, and developing my own artistic style. 2015 was the year I discovered that my true passion lies in designing modern minimalist pictorial quilts using the STOP (Stitch.Trim.Openseams.Press) method. My pattern business has blossomed and bloomed over the past four years.

The year 2020 will be…. The YEAR OF CONTINUING TO FOCUS ON DESIGN!
Here are some of the NEW PATTERNS I've been working on….
Kangaroo & Joey 2 is meant to compliment the Koala Love pattern. This pattern features 14″ square blocks for a 9 block finished Quilt size of 50″ x 50″.
Coming in 2020, PriME MaTEs will include instructions for 3 Bed Quilt sizes – 75″, 80″ and 90″ square – and three Throw Quilt sizes using a couple of primates only.
BONUS!!! This Go Bananas! table runner looks like a lot of fun and finishes at 13″ x 39″
Coming in 2020, Life in the POND will include for 2 Quilt sizes – 40″ x 45″ or 80″ x 90″. But will provide 4 Quilt Settings.
3 COY with Lilly Pads
3 COY with Frog & Lilly Pads
Life Cycle of a Frog with Lilly Pads
Life Cycle of a Frog
2019 has been a pivotal year for me. A year of finishes and a year of firsts.
I had been hosting the Let's Bee Social since December 31st, 2013.
And I made it all the way to Let's Bee Social #277 on July 31st, 2019.
That is a lot of Wednesdays….
But somewhere along this summer, I stopped giving in to the pressure to post. I was having a lot of trouble keeping up. So now I only post when I want to post. Don't get me wrong! I am still ALL ABOUT BEING SOCIAL. I just seem to be finding my limited time has given way to being more social on Facebook and Instagram these days. It's hard to find time to pop by blogs to leave comments, when you can do so right there on those platforms. But I am not giving up blogging by any means!!!!
Thank you to all who have supported the Let's Bee Social over those years!!!!
I have made many, many of my dearest blogging friends through the linky party.

And you are my greatest blogging treasure!!!
2019 has been a pivotal year for me. A year of finishes and a year of firsts.
I co-hosted a SUPER FUN Harry Potter QUILT ALONG.
Hosting the Elephant Parade and then the Dog Gone Cute quilt along in 2015 had been so much fun that I decided to host a few more quilt alongs. In 2016 we quilted along to the Ugly Christmas Sweaters and the MOD Bear Paw. This past year I shared all the instructions for the HaveAJollyLittleChristmas quilt along which was so much FUN!!! All of these quilt alongs can be found by clicking on the Quilt Alongs page tab at the top of my blog, just below the header. And these quilt alongs will always be there, so you can join in at any time.
I had so many people inquiring about a quilt along for 2018. And I had hoped I would have found the time and inspiration to come up with something fun. But it didn't happen. But that's perfectly okay because
this year's HPQAL2019 was a rousing SUCCESS
!!!!

The year 2019 certainly was…. The YEAR OF THE MOST EPIC HARRY POTTER QUILT ALONG!
Two years ago, at this time, I shared a very heartfelt reflection on my quilting journey. It was a post about love really and how I had found myself having made a difficult decision. I'm not calling it a crossroads. I had had enough. They say it is hard to stay in a relationship. But I say it's harder to leave it. 
All my hope was gone.
And I was ready to make a new start.
I asked for your love and prayers and I was overwhelmed with both!
And there were many many many of you who had gone through, or were going though, a similar situation. Knowing you were out there thinking of me and caring, made me stronger. And it is my hope this Christmas Season that you are all feeling loved. Please know that we are all here for each other. And I love you all!!!!!!
Things have come full circle! I am very happy. And I love my new life in our new home. Having you in my life is a blessing you cannot imagine!
Thank your to each and every one of you for all your support throughout the year!!!
Get 50% off any PDF pattern purchase here in my shop!



What are your plans for the coming year?


Looking forward to quilting along with you in 2020!!!
Wishing you ALL a very  Merry Christmas…
a Happy New Year!
And….
Keep On Quilting On!
To follow Sew Fresh Quilts by email….
Enter your email address:
Delivered by FeedBurner
18 Responses